The PGM Associate Program
Take the steps to become a PGA Member and build your career in golf.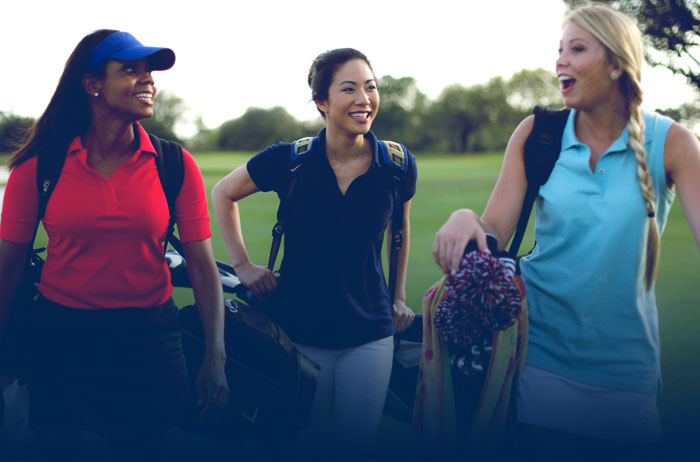 To apply for membership with the PGA, you must first complete the PGM Associate Program by meeting the milestones listed below. (The background check, Qualifying Test and Playing Ability Test may be completed in any order)
Background Check
All individuals registering or re-registering as an associate must complete a Background Check. Employment Screening Associates (ESA) performs this service at a reasonable cost, paid by the prospective member during an online screening session.
(If you have been convicted of a felony, misdemeanor or equivalent, you should submit documentation to the PGA Membership Department to determine your eligibility for PGA Membership prior to proceeding. Per the PGA Code of Ethics, certain transgressions are cause for permanent preclusion to PGA Membership.)
Qualifying Level
Applicants will review the four Qualifying Level courses - Introduction to the PGA PGM Program, PGA Constitution, Introduction to the Rules of Golf, and Career Enhancement. As courses are reviewed, applicants will complete accompanying quizzes.
Don't have a pga.org account? Create one here
Player Ability Test (PAT)
One of the following must be completed within eight (8) years prior to registering into the PGA Professional Golf Management Program:
Pass the 36-hole Playing Ability Test
Attempt the PAT at least once within the eight (8) years prior to registering into the PGA PGM Program. Within that time frame, shoot one 18-hole score in a PAT that is equal to or less than the PAT target score for 18- holes, plus 5 strokes. Note: Each PAT score has a validity date of eight years.
The 36-hole PAT remains valid during the Acceptable Progress period. In order to pass the 36-hole PAT, you must achieve a 36-hole score within 15 shots of the course rating. For example, if the course rating is 72, the target score for the 36 holes would be 159 (72 x 2 - 144 +15 - 159).
This competition is normally conducted in one day. Fewer than 20% of those taking the test achieve a passing score, therefore, it is highly recommended that you work diligently on your game prior to registering for the PAT. To register by phone, please contact PGA Membership Services at 1-800-474-2776.
View PAT Policies & Procedures
Eligible Employment
To be eligible to register as an associate, individuals must be employed in an eligible position, within one of the approved classifications. While many traditional golf positions may be top of mind, there are many non-traditional jobs that are also eligible positions including things like tournament director, sales & marketing, hospitality and even real estate. NOTE: Participation in an amateur event will forfeit all work experience credits earned prior to the event.
Associated Costs
Fees - must be current on all fees and costs associated with the application process. We also have a fee calculator available for your use.
Portal Access to Online Course - $200
Valid for 9 months – If the Qualifying Level is not passed within 9 months of the purchase date a renewal fee of $200 will be required.
Apply to the PGM Associate Program
Successful completion of the Qualifying Level, meeting the minimum Playing Ability Test requirement, a valid background check* and the Associate Registration form verifying employment, must be signed and submitted by you before you are admitted to the PGA PGM 3.1 Associate Program.
*Please call PGA Membership (800-474-2776) to verify that you have a valid background check on file.
Download the Registration Form
PGA PGM 3.1 Associate Program Overview
To be elected to membership once admitted to the PGA PGM 3.1 Associate Program, Associates will have to meet the appropriate milestones and requirements:
Acceptable Progress
Level 1 must be successfully completed within three years of the Level 1 Start Date
Level 2 must be successfully completed within three years of the Level 2 Start Date
Level 3 and election to PGA Membership must be successfully accomplished within nine years of the Level 1 Start Date
Associates have nine years from their Level 1 Start Date to graduate from the PGA PGM Program, meet all election requirements and become elected to PGA Membership. Failure to complete Level 1 or 2 within three years of the Level's start date will result in suspension. Failure to exit suspension by the end of two years will result in termination from the PGA PGM Program. 
Education - must have a high school diploma or be at least 18 years of age and have the equivalent of a high school education. Please contact one of the following companies to submit your diploma, certificate or degree if your education was completed in a country other than the United States of America:
| Josef Silny & Associates, Inc.
7101 SW 102 Avenue
Miami, FL 33173
Phone: (305) 273-1616
Fax: (305) 273-1338
Translation Fax: (305) 273-1984
| World Education Services, Inc.
Attention: Documentation Center
P.O. Box 5087
Bowling Green Station
New York, NY 10274-5087
Phone: (212) 966-6311
Fax: (212) 739-6100 |
Employment - A total of 28 work experience credits must be earned in addition to fulfilling the PGA PGM Program. (One credit per month while eligibly employed full time.) 12 credits are awarded for a four year college degree and six credits for a two year college degree.
Amateur Status: Work experience earned prior to participating in an amateur event will be forfeited.
*Note: All applicants are required to read and write in English to successfully complete the PGA Professional Golf Management Program. *
If you have any questions concerning this information or requirements to become a PGA Member, call PGA Membership Services at (800) 474-2776.